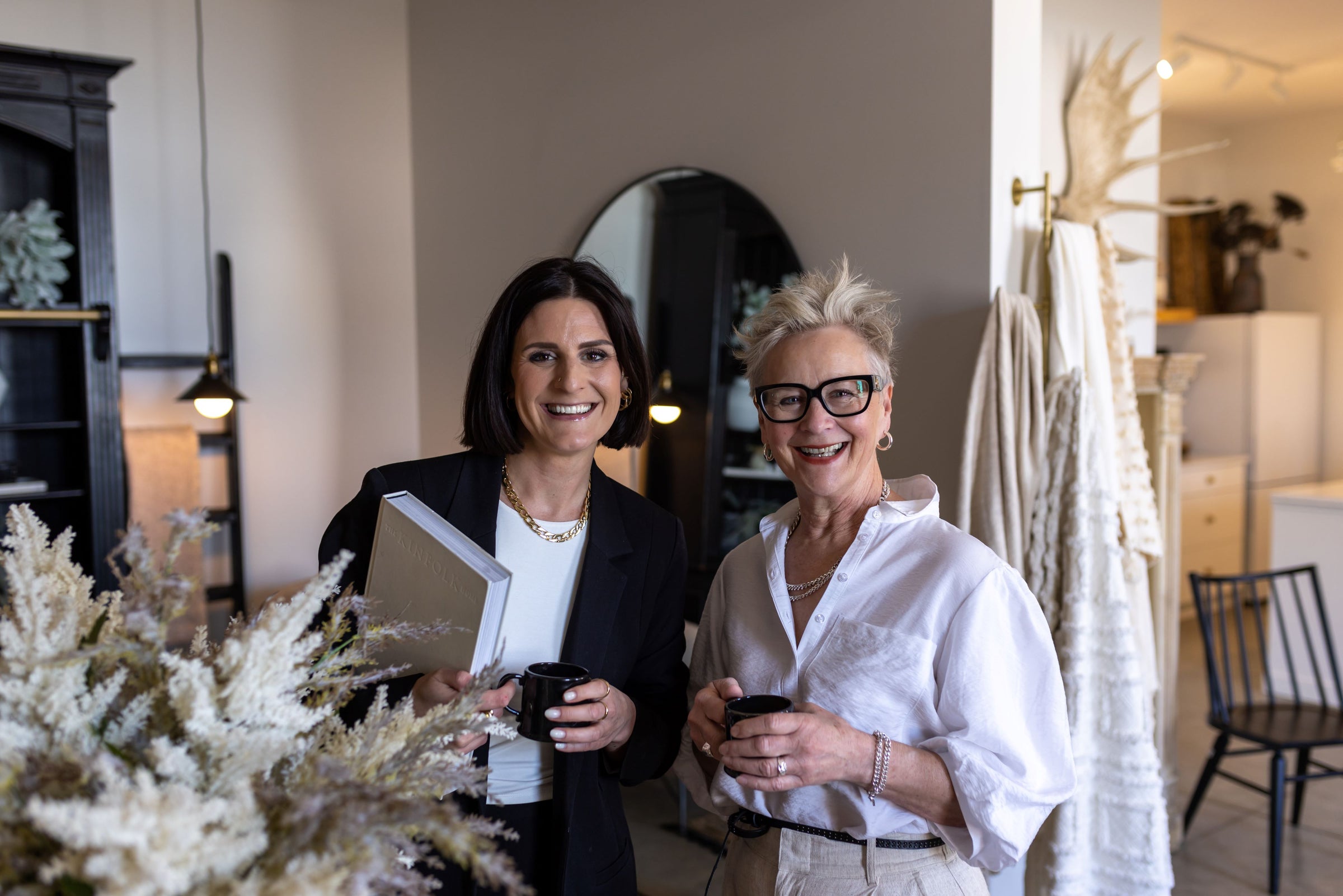 Beautiful, well-made home décor and apparel for all women.
Voila! is a lifestyle store where you can get inspiration and personal advice on styling your home and your closet. You'll find interesting pieces with texture, transitional style and function. In our shop you'll always be greeted with soothing scents, jazzy music, and a friendly face.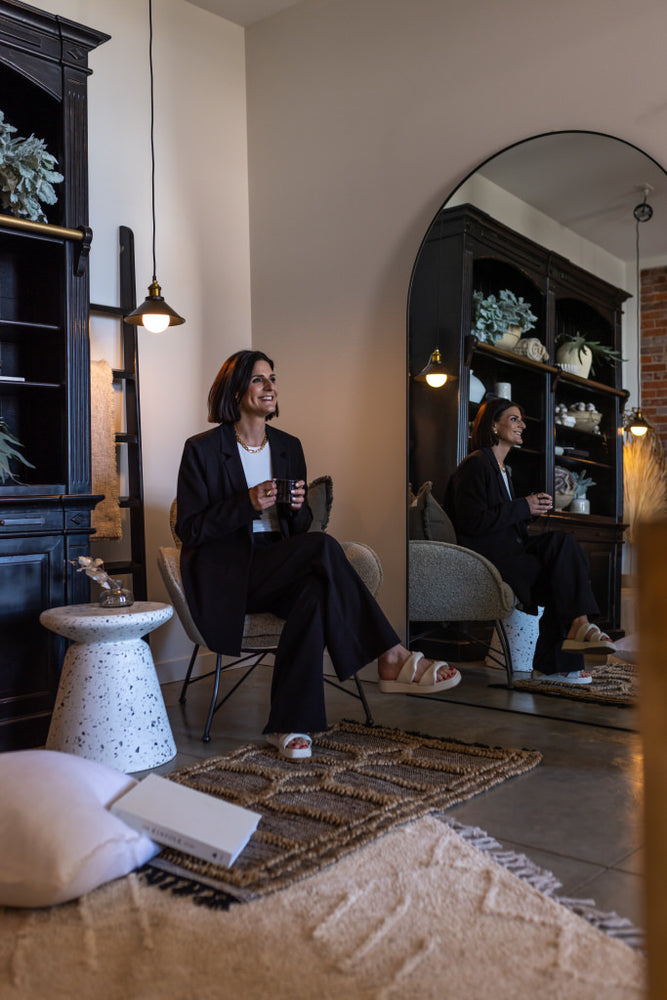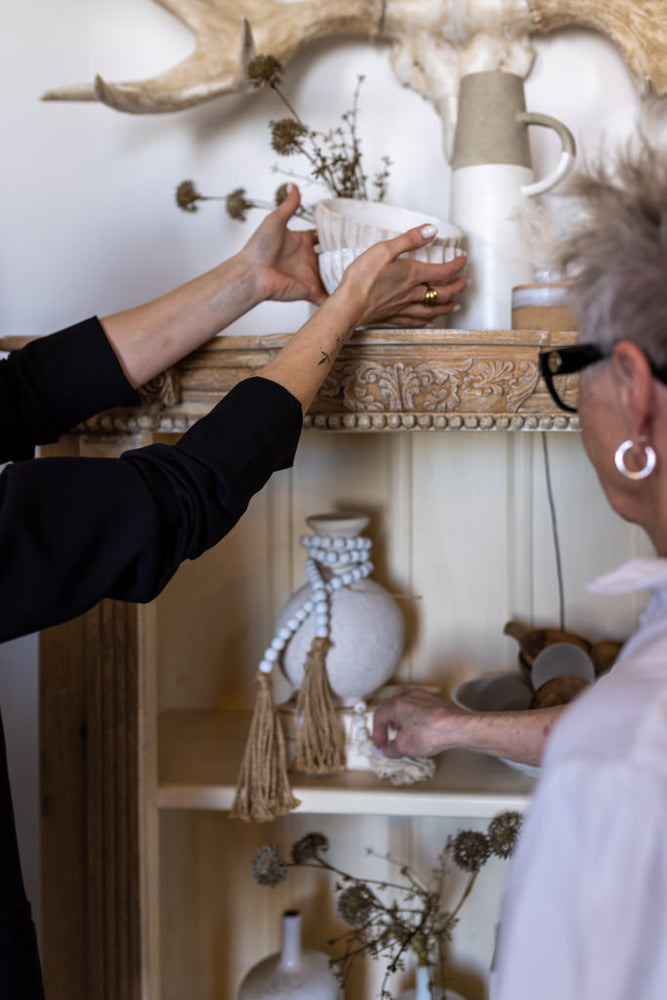 Voila exists to:

• help women feel peaceful, beautiful and at home in their spaces and in their bodies
• ignite curiosity, imagination and joy for the everyday items we surround ourselves with
• take the pressure off and make creating a well styled life feel fun and easy
• help women venture just outside their comfort zone so they can try new things in a way that still feels safe
Karen and Jenna are the mother-daughter duo behind Voila. They started Voila in 2005 because they couldn't find what they were looking for: a place where women could be both on trend and comfortable, elevated but also a little whimsical. A place where you could find elegant, beautiful things for your home and closet (and someone to show you how to style them!)
When we style a home or the store we strive to ignite curiosity! Because after all decor should be interesting, fun and inspiring.
We love a piece of clothing that is versatile, easy to wear, easy to change up and reinvent! We believe in experimenting and having fun with clothes!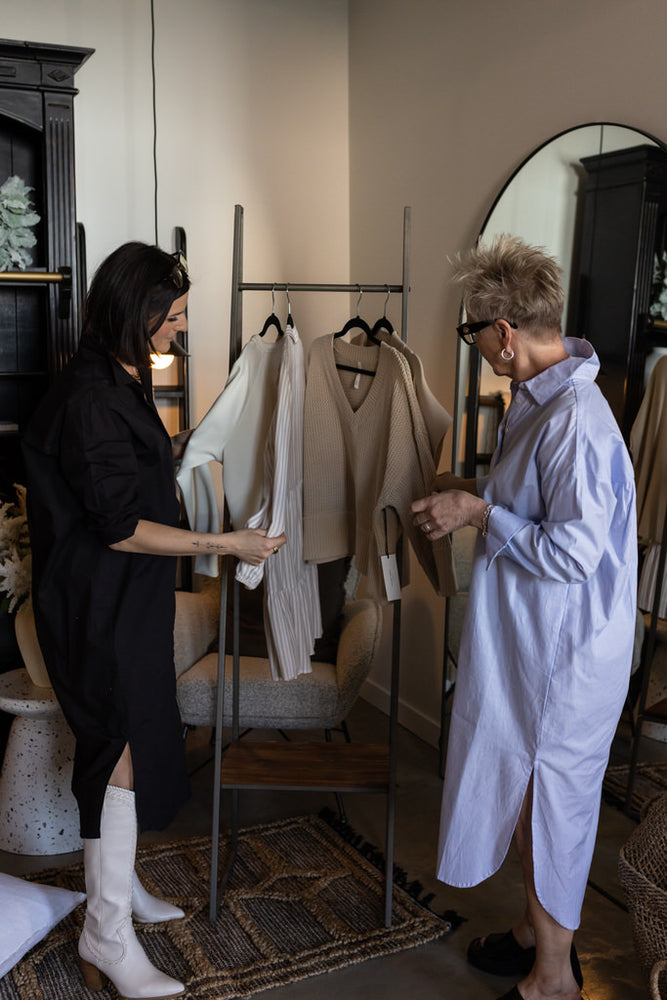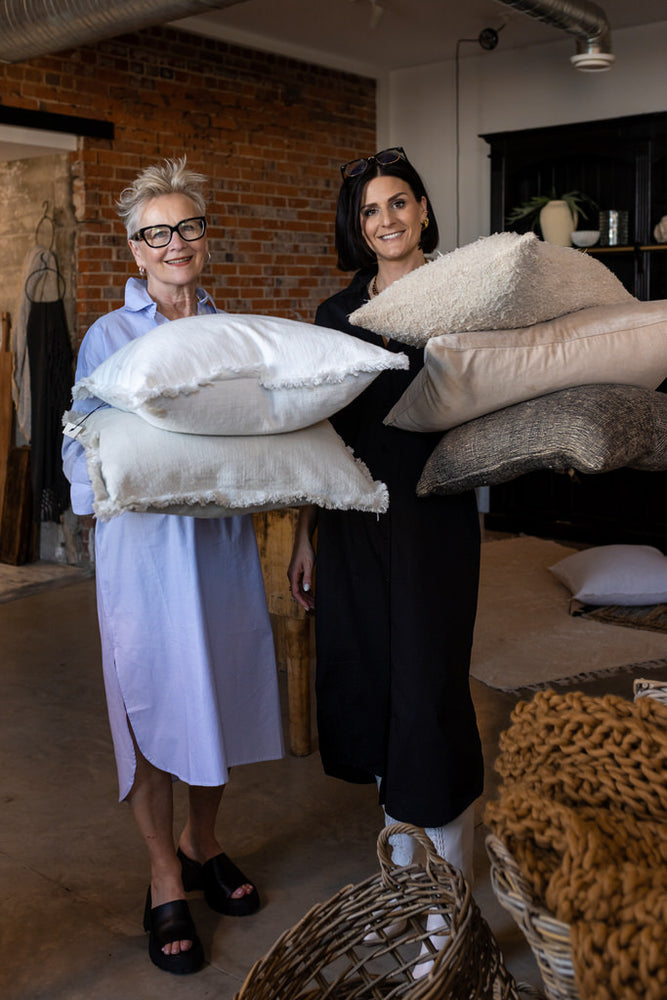 We'll help you find elegant, beautiful things for your home and closet and show you how to style them!
What customers are saying
★★★★★

From the minute you step into Voila you are greeted with a smiling face. Karen and Jenna are wonderful and welcoming! Whether you are looking for home decor or a new outfit, they will make work their magic to create and find something for you. If it's for your home, they will consult with you and give you ideas of what to do with your space. If you want to step it up a notch, they will come into your home and work with your existing treasures, rearrange and add some new treasures to make your home oh so cozy! As for fashion, they are up with the latest trends and styles and will find something you will look amazing in and most importantly, feel comfortable in. Voila is a wonderful relaxing place to pop in and maybe even find a little treasure or two!

CS
★★★★★

Voila, this is my favourite store, hands down the BEST ever!

Each and every time I enter the store, Karen and Jenna are there to greet me not as a customer but as a friend.

Their captivating sense of style with respect to their clothing or home décor products is unmatchable.

Their home décor products are always a want for me. It doesn't matter what it is, I want it in my home! Let's be honest, I feel the same way regarding their clothing line as well. My closets can attest to that! 

Voila is the whole package from their products to their outstanding customer service and styling ideas. I love Voila!!

ND
★★★★★

Jenna and Karen are one of the best in the industry! I was blessed to have them come into our home and help me to refresh our decor. The whole experience was amazing and a lot of fun! They worked within our budget and truly listened to what we wanted and more importantly what we didn't want. I also appreciate that they worked with the decor that I already had. Jenna and Karen have this wonderful ability to truly connect with their clients, and the outcome in the end is better than you could ever imagine. When the process of finishing our house came to an end, I felt like I had made two more beautiful friends. This is something so very special that not many business are able to do or achieve. Hugs to you both!

Carrie
★★★★★

After twenty years in our house, it felt tired and in need of rejuvenation. We did not know
where to start. We enlisted the help of Karen and Jenna from Voila and with their keen design
sense meshed with our unique circumstances, they brought our house back to life. Minor
renovations were recommended. Areas of the house that hadn't worked well were made
functional. Furniture and décor items were chosen to update the space and improve the overall esthetic. Karen and Jenna put these items into place and staged the house over the course of one day; so that after vacating the house, we came home to a home that was rejuvenated and more welcoming. We are grateful to Karen and Jenna for their vision, their design skills, and their encouragement during this process.

PRH
★★★★★

If you're feeling like it's time for an update to your home decor, contact Jenna & Karen for help. They went above and beyond and were so amazing to deal with. They have such impeccable taste and knowledge of all things decor and had so many great ideas to share. I couldn't believe my eyes when I walked into my home after they had finished decorating. It was breathtaking, warm and inviting and I couldn't wait to spend time in my beautifully decorated space. If your thinking of renovating or decorating give these amazing ladies a call you will not be disappointed.

LH
★★★★★

Jenna was a tremendous help to me as I chose furniture for our new home. From floor plans and photo's, she helped me pick furniture that fit perfectly and looked great. At times we were picking all new furniture for a room and other times, she worked around furniture I already had. Thanks to her, my house feels like a home and works wonderfully for my family. Jenna was fun to work with, picking up the furniture was easy, and I was so happy to support a small, local business.

KP
★★★★★

My favourite shop in Wainwright! Paired with the loveliest ladies to help you make the perfect choice. I love all the beautiful home decor and scents that make my home cozier. Want to make your home feel like a winter wonderland during the holidays? They pull it off seamlessly. Want to freshen up in Spring? They have you covered! Want to make a change but still use pieces you already own? They can do that too!
The clothing they carry is made to last and timeless, I have pieces that are almost 3 years old that look new and I still get compliments on them.

AR
★★★★★

A gorgeous and inviting shop! I can always count on Voila! to have the perfect housewarming, shower, or baby gift. The clothes are beautiful and good quality. I got my favourite dress and bracelet set here. The ladies there have excellent taste and are always very helpful. I'm so happy to have this little gem in the community!

MM
★★★★★

Shopping at Voila is an absolute joy. Many of my most cherished decor pieces are from voila and I have found so many unique and elegant gifts with the help of the warm and helpful staff. Time and time again, the owners have gone above and beyond to turn my vague design ideas into a reality. Wainwright is truly blessed to host such a gem!

KG